Home >> Air >> Carbon Dioxide (CO2) >> Use less electricity >> Food >> Maintain proper settings and maintenance on your fridge and freezer
---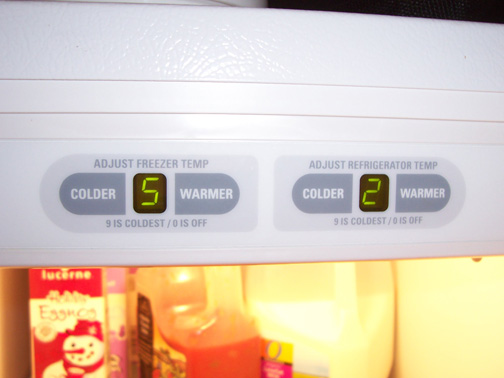 2
Maintain proper settings and maintenance on your fridge and freezer
If you do this action, you could earn another 2 points [add to points]

Keep the refrigerator temperature about 36-38 degrees, and the freezer around 0 degrees. This will reduce electricity by not running the chillers as long, but still keeps it cold enough to protect the food. Vacuum the rear-mounted condenser coils regularly, to make sure they perform efficiently, especially if you have pets.
Real Fridge and Freezer Energy Savings
Easy Scale:
[10]
(1-10 scale, 1 = Difficult and costly, 10 = simple and no cost or little effort)
Impact Scale:
[2]
(1-5 scale, 1 = Minor but worthwhile, 5 = Strong impact on environment)
Want more info...
You might have to buy a thermometer in order to measure the actual temperature, since the settings are usually set as numbers, like 1-5. Older models may not be able to reach those temperatures, and may require replacement.
Category: Food


---
User Comments
Be the first to add a comment ...

You must have an account to make a comment (it's free!)
Already a member? Login at the top of the page...
---
Random products from our store